Ticketmaster is one of the leading ticketing platforms in the world — you can see Ticketmaster-powered events everywhere from Dublin to Hobart, from ice hockey matches to jazz concerts. Chances are if you've been to a live event you've used a Ticketmaster ticket before.
Selling your Ticketmaster ticket on Tixel is easy, simply upload your ticket from your email, a PDF or your Ticketmaster account and get it in front of thousands of verified fans.
Simply
Re-issued Tickets
All Ticketmaster tickets resold on Tixel are safely re-issued, meaning that buyers get brand new tickets directly in their Ticketmaster accounts. This is a great experience for both sellers who avoid ticker scammers and the buyers who get as much peace of mind as buying from Ticketmaster directly.
Finding Your Tickets
You can upload your ticket to Tixel from your email, a PDF or your Ticketmaster account.
Finding a Ticketmaster Account Ticket
In case you opted for a mobile ticket when you made the purchase, Ticketmaster allows you to download any mobile ticket as a Print-at-Home (regular PDF) ticket. See an example below.
If your ticket is a so-called mobile-only ticket — a new Ticketmaster term where your ticket is only found in your Ticketmaster account, you can still list and sell your ticket on Tixel. Just click on "In my account" and follow the instructions on our Upload page: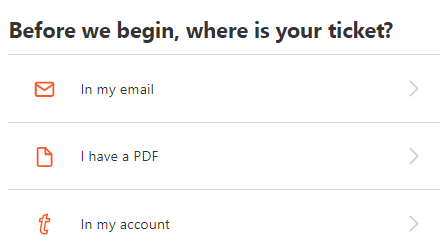 Finding a PDF Ticketmaster Ticket
You may have your ticket as a PDF, in which case simply click "I have a PDF on our upload page.
To sell your Ticketmaster ticket on Tixel, you could first upload the Print-at-home PDF file. You can download it on Ticketmaster website, just go to "My Account", then "View All Orders" and click on the corresponding order. You should see something like this:
Now just click "View Tickets". Some modern browsers (eg. Chrome) might open the PDF file instead of downloading it. In this case, find this little toolbar and click on the middle icon — "Download". That's it, you've got the original file!
To prevent fraud and fake tickets you cannot use a text or graphic editor to, for example, cut out some of the pages. You can select which tickets you want to sell on Tixel anyway!
List Your Tickets Safely
Once you've found your tickets and selected the upload method on Tixel we will scan the tickets to make sure they are legitimate and haven't been tampered with.
This only takes a few seconds!
Choose tickets that you are planning to sell by clicking the red toggle on the ticket stub. You will see details of every ticket — eg. date, price, address, barcode, page number and buyer name to help make sure you are selecting the correct ticket
After you chose tickets to sell, use a price slider to adjust your selling price. There is no minimum price but the maximum price is capped at 10% over the face value, meaning if you bought your ticket for 100 dollars, you can only sell it for 110 dollars or less.
We do this to keep Tixel a platform for fan to fan ticket sharing, keeping scalpers off our platform!
That's it — after the final confirmation, your ticket listing goes live! The majority of our tickets sell within 24 hours of being listed. But we also have a few tools to help you get it in front of other fans!
Share Your Ticket
After you list a Ticketmaster ticket on Tixel, you will have the option to share a unique link to your ticket. Posting this on the event's Facebook page or other social networks can help your ticket get sold faster!