The festival industry is changing shape (again) after a strange few years. With the majority of reschedules and postponements in the rearview mirror, we're noticing a much more forward-looking, optimistic approach in the northern hemisphere. Hooray to that!
We're PUMPED to announce some amazing new UK festival partners for 2023. We're also highlighting the festival focus areas we're seeing and hearing from our UK/EU partners.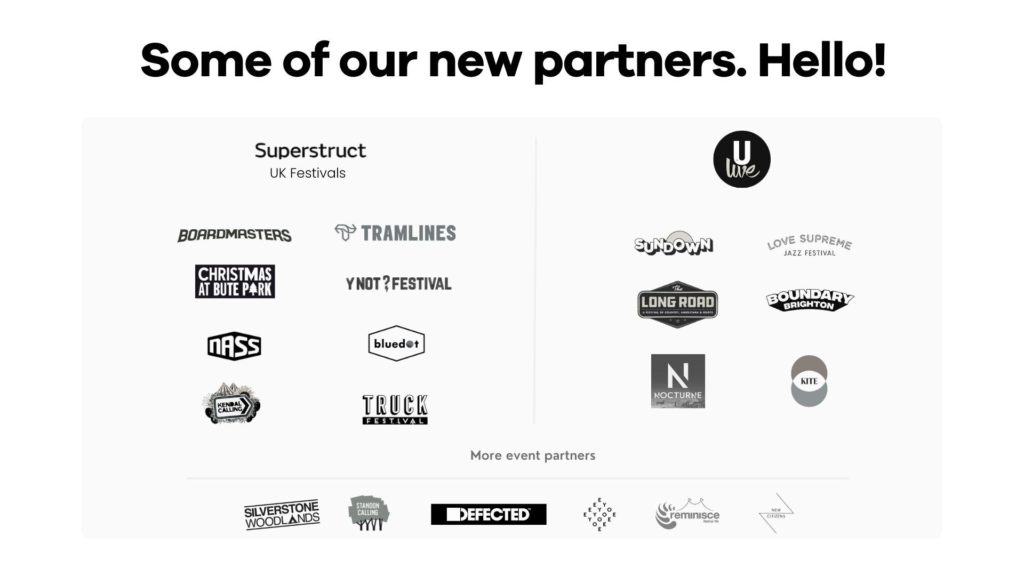 Top 5 Festival partner priorities: Insights from Tixel's Customer Success Team
As we work closely alongside our partners, we have a lot of conversations about the challenges, focus areas and innovations that festivals, from big to boutique, face.
We asked our Tixel customer success team to share the key themes that pop up consistently for our festival partners. These five emerged as the most prominent.
1. Sustainability Efforts
An increasing number of festivals are making sustainability and environmental consciousness a top priority. This emphasis is not only attracting eco-savvy attendees but it also sets a new standard for future events (and arguably protects the Earth so we can have future events!) so it becomes a must-have vs. nice-to-have. A sustainable mindset aligns with the findings of a 2019 Powerful Thinking study: The UK-based think tank, which focuses on energy efficiency in the live events sector, discovered that 76% of surveyed festivals were using reusable cups, and 96% of them had a strategy for reducing waste and increasing recycling, showing their active commitment to waste reduction. Additionally, 40% of festivals were using renewably-powered onsite transport.
2. Digital innovation
Look, we may be biased here, but we really think our partners are the smartest, brightest, most innovative people around and they apply all of that alongside creativity that is continuously redefining the modern day festival experience. We're talking about things like bespoke mobile apps, AI-powered chatbots for event information and customer service, mesmerising drone light shows that illuminate the night sky, interactive art installations, seamless biometric identification for cashless payments and immersive virtual and augmented reality experiences that bridge the gap between digital and physical worlds. Not only is it inspiring but as a specialist tech platform, we have to make sure our technology is 10 steps ahead and can integrate and jam with anything our partners are making.
3. Diverse Lineups
Festivals are placing greater emphasis on curating diverse lineups that better represent the world around us and appeal to a broad spectrum of musical preferences and cultural backgrounds. Initiatives like Keychange encourage festivals to commit to a 50:50 gender balance in their programming, staffing, and representation. By championing diversity, festivals are providing more opportunities to share their art as well as attracting larger, more varied audiences and cultivating a sense of community and connection among attendees, enriching the overall festival experience.
4. Mental Health and Wellness:
There's (thankfully) an increasing emphasis on mental health and well-being in the wider world and festivals are thoughtfully integrating more wellness programs and spaces into their offerings. By providing dedicated meditation zones, rejuvenating yoga sessions, and accessible mental health support services onsite, these events demonstrate a deep-rooted commitment to the holistic well-being of attendees. This not only caters to the diverse needs of festival-goers but also enhances the overall experience, creating an atmosphere of mindfulness and self-care within the dynamic and sometimes hectic festival environment.
5. Efficiency, efficiency, efficiency
It's never been more expensive to produce an event and while consumers are reasonably happy to spot some of the bill, the rising cost of living is also causing our entertainment budgets to shrink. And when we're talking about investing more into sustainability or safety measures, festivals need to maximise every ticket sale while running a tight logistical ship. 84% of people are more likely to buy a ticket if they know they can easily resell it later, and 40% of people will think twice about buying a ticket at all if the event doesn't allow resale. We also know that offering a (legit) resale marketplace radically reduces the time spent on customer service issues. Are we biased? Of course. But gaining back those valuable hours and ticket sales could be the difference between profits and breaking even.
As a company that thrives on innovation, we're excited to see the industry continue to evolve and adapt to changing landscapes. By focusing on sustainability, diverse lineups, digital innovation, mental health and wellbeing, and efficiency, the festival industry is paving the way for a brighter, more inclusive future for live events.
Would you like to learn more about the festivals we're working with or how we can support your festival? Reach out to us at [email protected]. We'd love to hear from you!