Tixel is the best way to sell Ticketek tickets to genuine buyers at a fair price.
Tixel is the best way to sell Ticketek tickets to genuine buyers at a fair price. Trusted by event lovers around the world, Tixel has helped hundreds of thousands of people change their plans — without getting short-changed.
Tixel is a safe ticket marketplace to trade tickets from Ticketek. Our integration means you can list tickets for resale directly from your Ticketek account. Easy as.
To resell an Ticketek ticket, simply login to your account and select which tickets you wish to list for sale. If you've forgotten your account details, never fear — we also accept official email and PDF tickets from Ticketek.
Unlike auction and classifieds websites, Tixel's ticket resale offers advanced protection to both sellers and buyers — protecting fans from scammers and time-wasters. We use modern, anti-fraud technology and hang on to tickets until payment is received.
It's ticket resale without the hassle. No bad vibes, just money back for any Ticketek tickets you no longer need.
Tixel is available to all Ticketek ticket types and all events: Music, sports, food & drink, arts, festivals, conferences, seminars, and more. If you bought it on Ticketek, you can sell it on Tixel.
How to sell your Ticketek ticket:
Ticketek issue different types of tickets depending on the particular event - it can be PDF (print-at-home) tickets, mobile tickets (special links) or Ticketek app tickets. If you received a PDF ticket, you can just upload the file on this page and in a few clicks your listing will be live.
If you have mobile tickets, Ticketek sent you the special mobile links by email and SMS. If you look closely at your original order confirmation email, there is a section that has links for each of your tickets purchased. These links can be pasted on our mobile ticket listing page.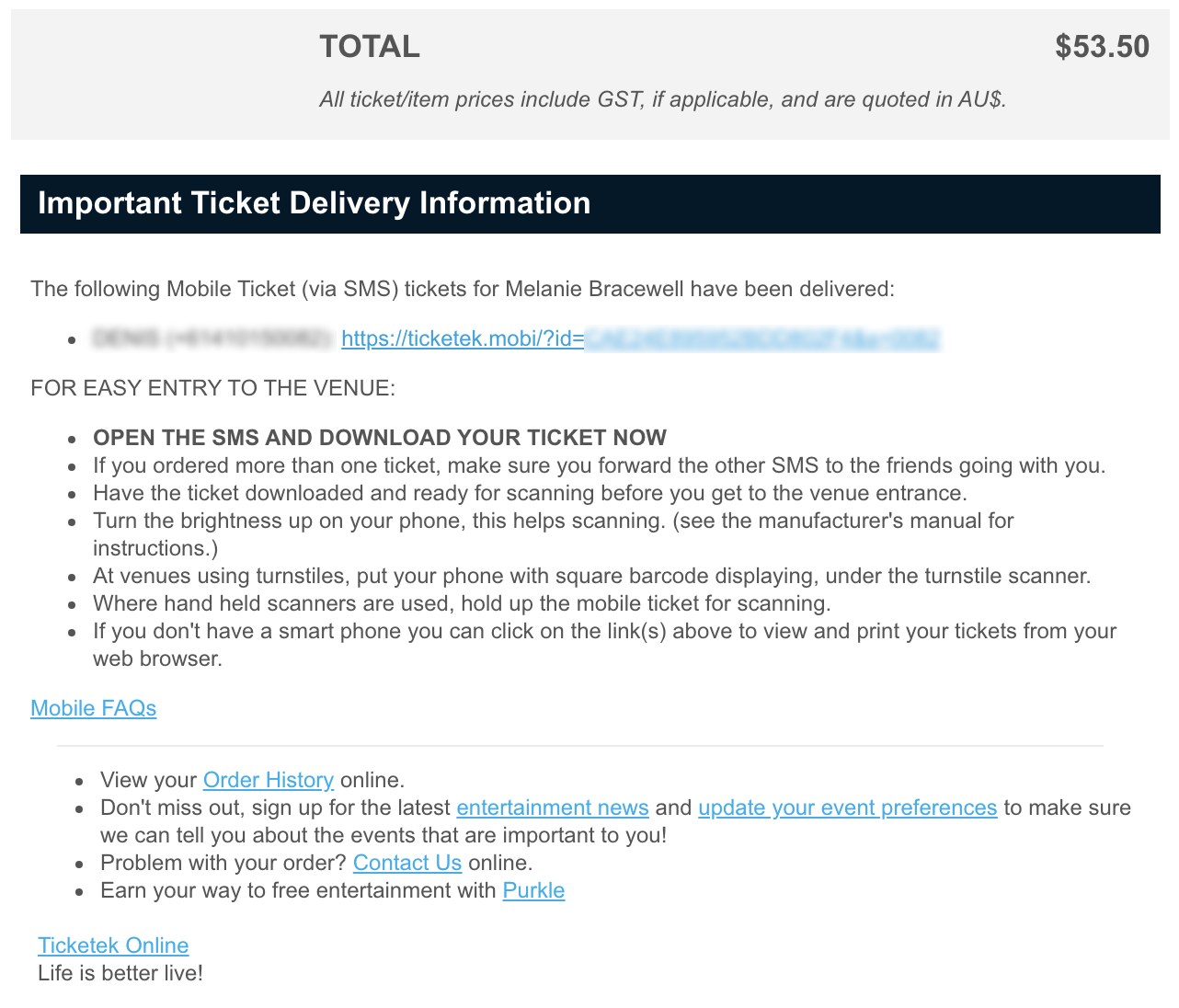 You could also login to your Ticketek account - Ticketek create an account for every ticket purchaser automatically, and find your tickets there, in "Order History" section.
If you click on "Mobile Ticket", you will get to the same link that was included in your original receipt and SMS confirmation.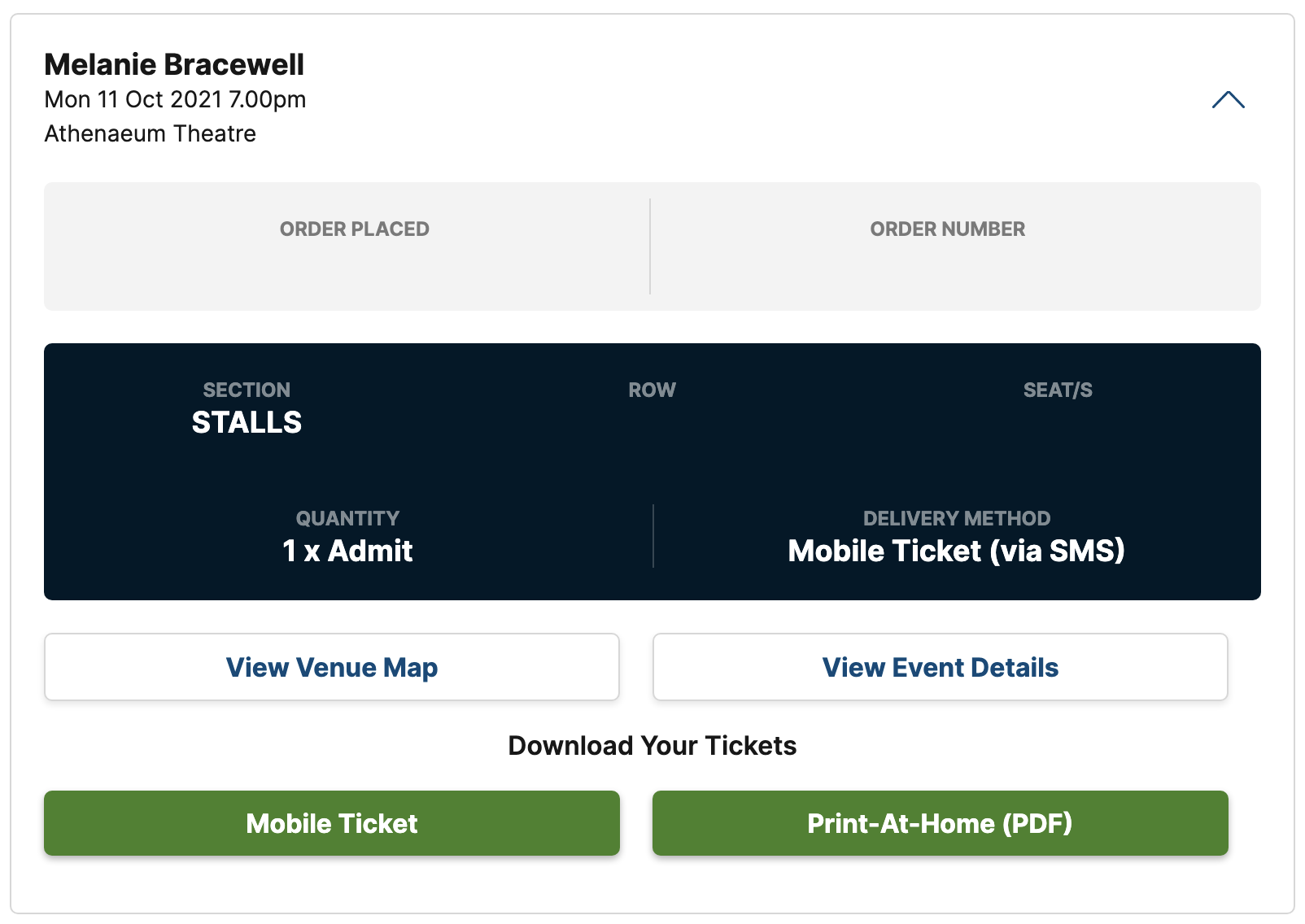 This is what a Ticketek mobile ticket looks like in your browser or mobile app. If your ticket looks like this – you got a mobile ticket from Ticketek.
If you only have a screenshot (an image file) from a friend, but not the actual link – you have to find the link in order to proceed with this listing. We can't accept screenshots of mobile tickets. You can get in touch with your friend (or ticket broker if you purchased from a ticket broker) to get the actual Ticketek mobile link.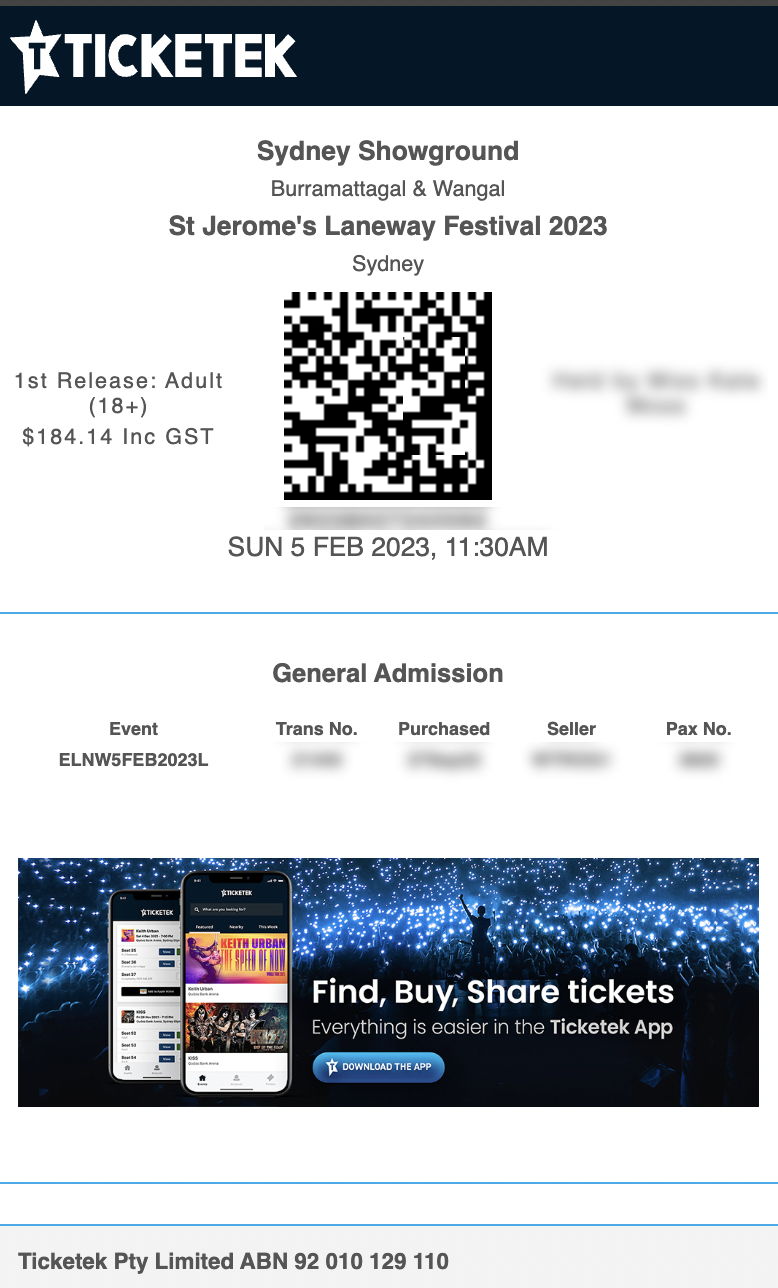 Now that you have your ticket links, head to the SMS listing page and just copy & paste your links there one by one.
Click "Continue" and you should be able to finalise your Tixel listing in a few seconds.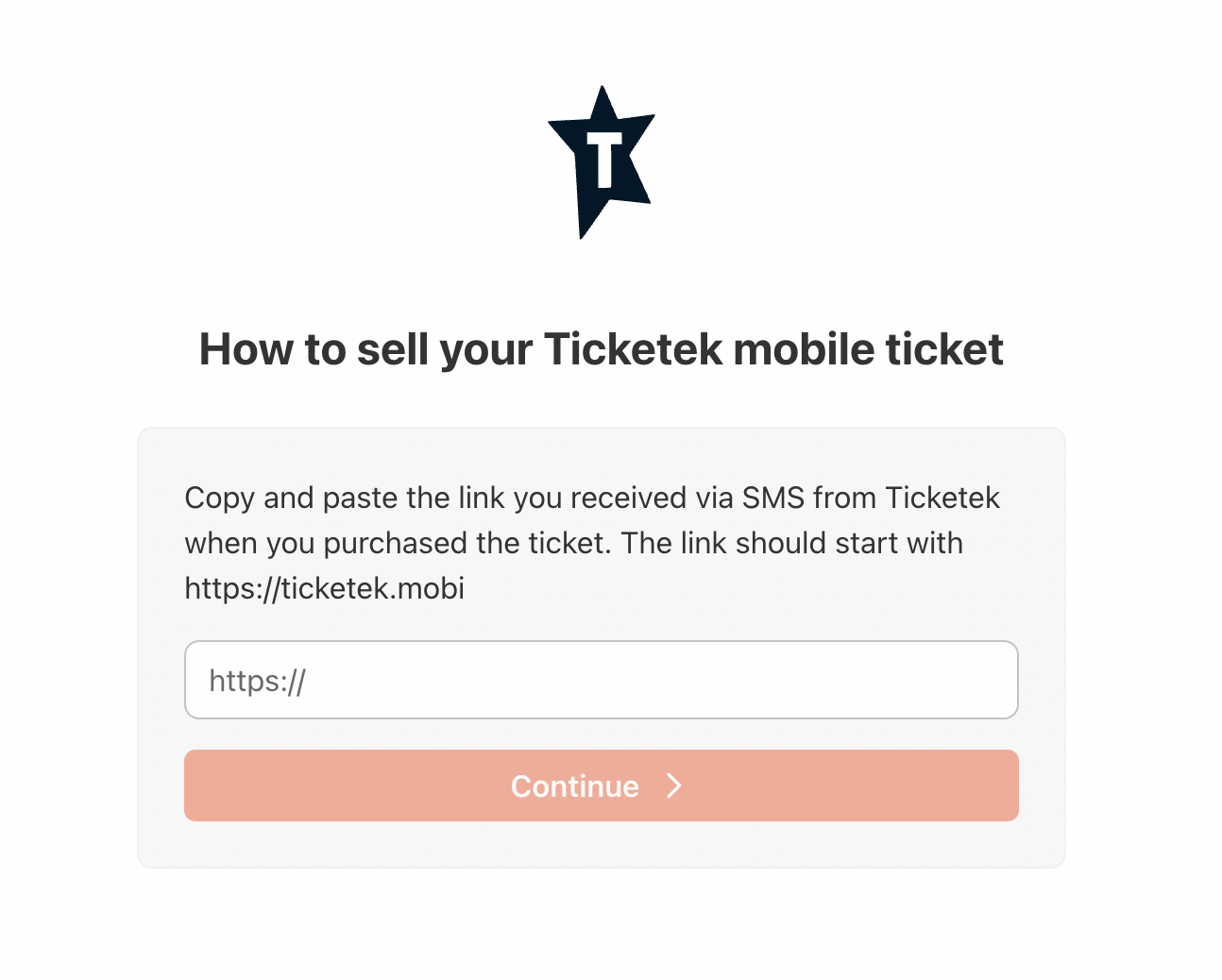 Ticketek App tickets:
Mobile app tickets are becoming increasingly popular lately as well. These tickets aren't issued as files or special links. Instead, you have to install the official Ticketek mobile app on your phone and you can see your tickets there.
Tixel supports these tickets as well. Just go to the Sell through Ticketek account page and choose "Tickets are in my account" option.
You will be asked to enter your Ticketek account credentials, but don't you worry - we aren't going to save these credentials. We will only use them once to look up your active tickets in your Ticketek account. It's a great practice to set a temporary password in your Ticketek account before doing this, if you are worried.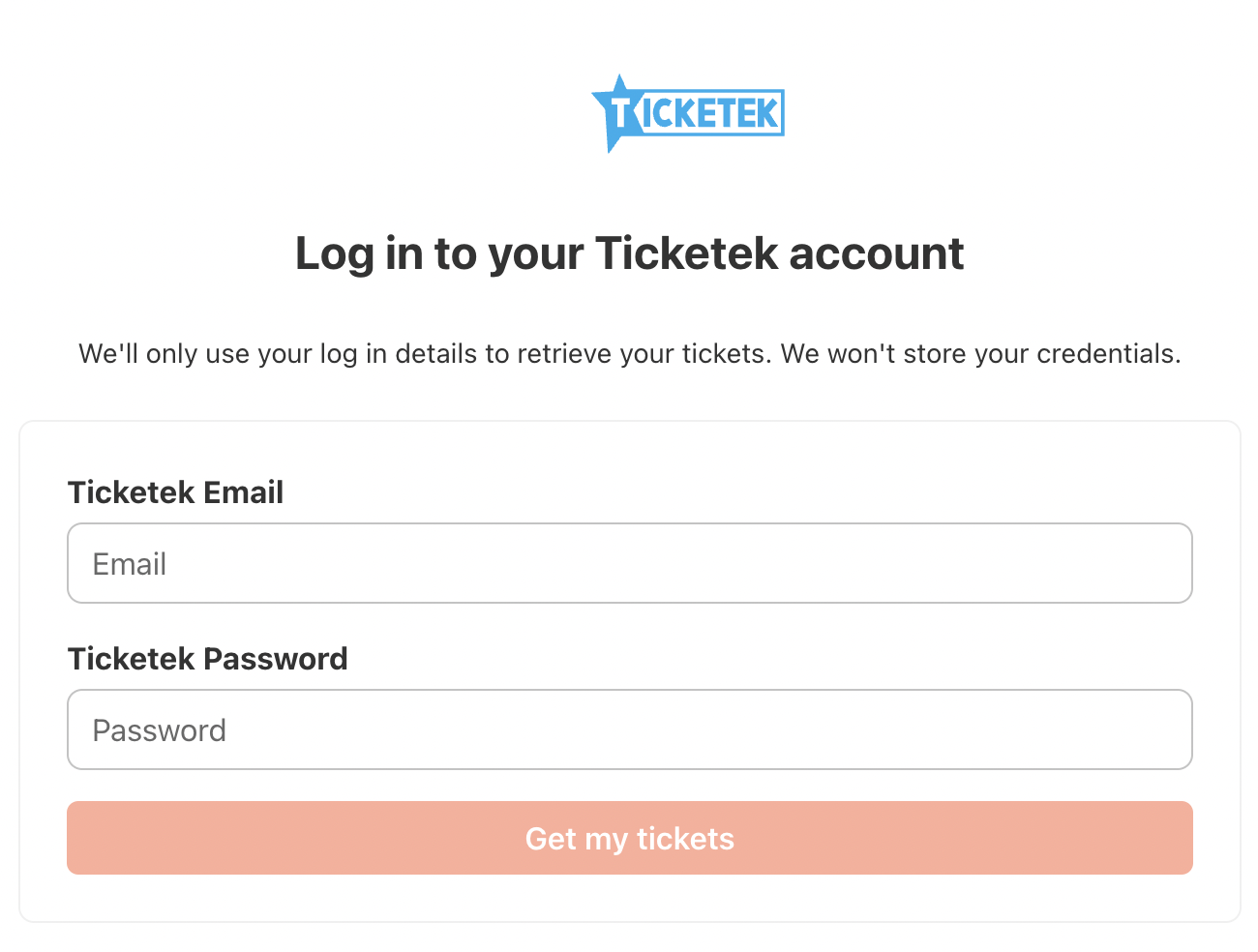 Best way to resell a Ticketek ticket?
We recommend using the Ticketek app method of listing a Ticketek ticket on Tixel because it works for everything – it works for mobile tickets, it works for print-at-home tickets as well as app-only tickets. If you have trouble listing your Ticketek ticket on Tixel – try this method and it should definitely help.
Other platforms that we support: