For a long time, ticket waitlists have been a static experience for event organisers and fans. If anything, waitlists were more like a newsletter subscription than a vehicle for getting people to your event.
Fans wanted tickets and got crickets.
Tixel has reimagined the waitlist to create a better experience that fans will love — while also adding real fire-power to your ticketing strategy. Tixel's dynamic waitlists actively work for your campaign by facilitating legitimate ticket transfers and uncovering an audience you've never had access to before.
With a dashboard built with event organisers in mind, Tixel's dynamic waitlists can do a lot more than collect names, including:
Gauge demand for current and future events
Allow to you access pre-authorised ticket sales if capacity can increase
Build a database of fans that can be exported into ad campaigns and email lists
Provide live market intelligence on what your fans want to pay for tickets
Create a picture of demand over time to inform your ticketing strategy 
Please note that Tixel obtains express consent from its buyers, and the price at which they are willing to buy is only shared with event organisers.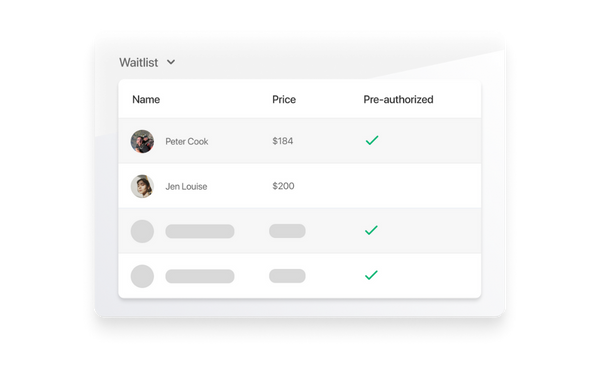 How it works for fans
When a user joins your Tixel waitlist, they can opt-in for instant alerts through email or Facebook. No more trawling auction sites or dodgy classified listings — they can buy a real, verified ticket the moment it becomes available.
Tixel's dynamic waitlists also cater for serious buyers. Fans can call dibs on tickets by pre-authorising their credit card with the quantity and price they're willing to pay. This will never be more than 10% of face value, so fans are never at the mercy of ruthless scalpers.
A legitimate event marketplace protects your ticket holders and relieves pressure on your refund policy. Buyers can feel more confident snapping up tickets early, knowing there is an easy and safe way to get those tickets in the hands of someone else if their plans change. Although Tixel cannot guarantee entry to the event, these measures make Tixel a safe and scam free resale experience with money back guarantee.
How it works for event organisers and promoters – a dynamic waitlist that works for you.
Dynamic waitlists can be activated for any event through the Tixel dashboard (you can get in touch with us here if you don't have one yet). You don't have to be sold out to use a waitlist, simply sign up and activate your waitlist for free through Tixel.
Your Tixel waitlist can be promoted to fans as a place to sell tickets they can no longer use, as well as a place for people to get a second chance at tickets once your event hits capacity. Since launch, our event partners have seen their waitlists increase by an average of 47-50% compared to a normal waitlist.
When you log in to your Tixel event dashboard, you'll see:
How many fans are on your waitlist at any given time
The value of pre-authorised purchases from fans who want to 'call dibs' on tickets
Live demand for your event to track how thisit fluctuates over time
Exportable data to use for future marketing campaigns
Why Tixel's waitlists are different from static waitlists
It's likely that you already have access to a static waitlist through either your ticketing partner or by using an email list. If 200 fans sign up for a static waitlist, you will collect a nice chunk of emails, but little else.
With our dynamic waitlist, you'll get a real-world view of the demand for your event. Fans can opt-in and out of alerts, showing demand at every point in your campaign. And because people can specify how much they are willing to pay for a ticket, you get a unique insight into what fans think your event is worth. Please note that when Buyers are willing to pay when the use the pre-authorisation function, Tixel obtains express consent to share that price with [only] event organisers.
How It Works In Practice
With visibility on how many people are ready to buy tickets, you can use dynamic waitlists to make informed decisions on your capacity. This might be used to release more tickets or even swap your venue to accommodate more people.
For example, if you see from your dashboard insights that you can sell an extra 100 tickets, Tixel will let you instantly access those pre-authorised buyers and interested fans. You can reach the fans who want tickets without any extra marketing spend, and without going back on sale. Even if you don't increase the capacity for this show, visibility over your demand could give you the confidence to add a second show or book larger venues for your next gig.
This kind of market intelligence can really supercharge your ticketing strategy and future promotions. By taking control of your after-sale market, you can make more informed decisions about extra allocations, future shows and ticket pricing.
Dynamic waitlists are compatible with all ticketing platforms, as well as Facebook Ads, so you can even export this data to run future marketing campaigns and turn waitlisters into your next pre-sale buyers.
Activate your dynamic waitlist
Some of Australia's best events and promoters are already using Tixel's dynamic waitlists to protect their fans from scammers, stay flexible, and sell out sooner. Join the likes of Strawberry Fields, Beyond the Valley, and Unified Music Group and activate your waitlist for free by getting in touch here.